The time for your bathroom to get a facelift has come, but you're short on both time and money. Don't worry; consider using peel-and-stick tiles.
Peel-and-stick Tiles:
Peel-and-stick tiles are modern, yet an economical means to facelift your bathroom. They are also known as self-adhesive tiles.
What Makes Them So Popular?
Peel-and-stick tiles are a smart and incredible creation that will simplify your life. Not only are they affordable, Stylish they are easy to install as well which makes them so popular. You don't need to spend hefty amounts on hiring professionals.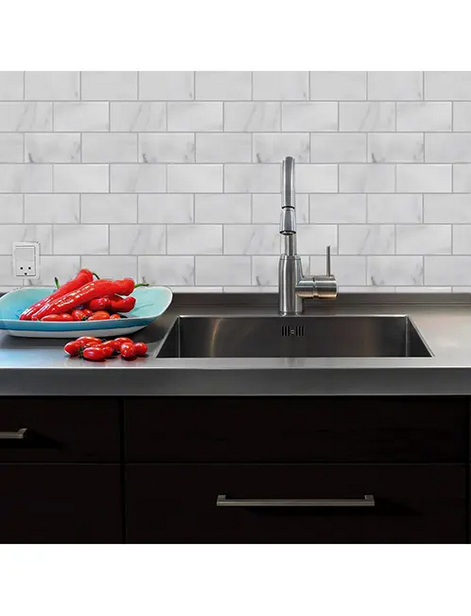 Peel-and-stick Shower Tiles: Are They Water Proof?
These tiles consist of multilayer vinyl making them resistant to water and moist environments.
Peel and stick shower tiles do not require grout for installation. So if you leave water on them for a long time, it may seep into the walls and floor subsequently damaging them. By covering the tiles with a sealant this problem can be solved.
Installation of Peel-and-stick Tiles in the Shower:
For best results, you need to first ensure that the surface on which you wish to install these tiles is smooth and clean. If the surface is not smooth, chances are that bubbles will be formed.
And the tiles will start to become loose over time.
Tips and Tricks:
For effective results consider the following tips and tricks while installing peel-and-stick shower tiles:
(1) Use a sharp cutter or knife to make accurate cuts.
(2) The backing paper should not be peeled off at once.
(3) Be gentle while applying the tiles and avoid stretching.
(4) If you want to remove (whatever being the reason) the peel-and-stick tiles use a little heat for effortless removal.
Benefits of Peel-and-stick Shower Tiles:
If you are going to use peel-and-stick shower tiles for the very first time you must be wondering, why is it so popular?
Well, these benefits are the answer to your question.
Benefits:
(1) Enduring and Tough:
They are enduring and can resist wear and tear.
(2) Cost-effective:
They are very cheap, particularly when compared with standard tiles. The average cost of Peel-and-stick shower tiles is under $2. The cost goes up if you opt for high quality.
(3) Installment and Removal:
They are easy to install, replace and remove if you feel the need.
(4) Long Lasting and Durable:
Since peel-and-stick shower tiles are made of vinyl, they are color-safe. So you can enjoy the different colors, designs, and patterns for a very long time.
(5) Easy to Clean and Maintain:
Cleaning these tiles is hassle-free. Just wipe them with a piece of cloth and the cleaning products available in your home.
Peel-and-stick shower tiles also referred to as adhesive tiles are being immensely used thanks to the strength and universal use they offer. They are water-resistant making them perfect to use in humid places (bathroom).  But keep in mind that they do not require grout for installation, so do use a sealant to prevent form damages.