Suppose you decided to invest in solar panels. In that case, you should research the numbers, tax incentives, and whether you can prevent further expenses by doing so. Of course, the installation requires hefty investment at first, but the project can provide you a turnaround and return in a matter of a few years depending on your specific requirements.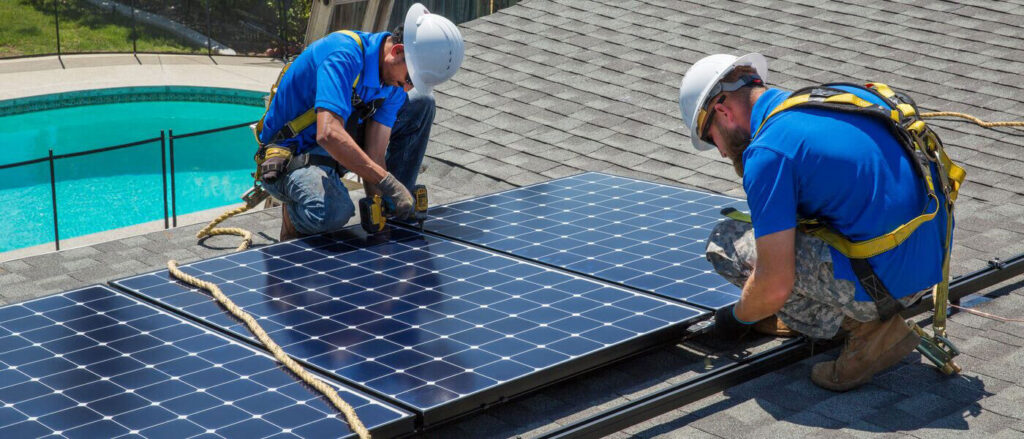 Content
Still, you cannot do it by yourself, meaning you should find a certified and professional contractor who will bring you insured installers that will provide you peace of mind. Although it is challenging to find the best installer from your area due to a considerable number of different services, the main idea is to choose based on comprehensive research.
You can find both local and national companies that have an online presence. Still, choosing the one for you requires prior screening, analysis, and other factors that will help you throughout the process such as getting multiple quotes and recommendations from neighbors, coworkers, and friends.
Generally, finding a contractor or installer is a similar process to finding any contractor for home improvement reasons. The main idea is to start with Google for checking the best options from your area and abroad. That way, you will have a wide perspective on companies that operate within the area you live.
You should click here to learn more about installing solar panels and whether they are worthwhile in the long run. The moment a local installer reaches you, we recommend you vet them beforehand and compare them with at least three different contractors.
That way, you can choose wisely and without following your emotions, which is vital for getting the job handled without potential issues such as insurance liability, for instance.
1.Check Out Local Incentives
Before you find a proper installer, it is vital to learn everything about potential incentives, discounts, and rebates that you can get in the state you reside. At the same time, you should check out which installer works based on the incentives, which will help you determine the best course of action.
For instance, the federal government offers a tax credit that can go up to thirty percent of the overall installation expenses for the solar system. Besides, each state features specific incentive programs that you can combine with the federal one such as property tax exemptions and sales taxes.
2.Complaints and Reviews
The best thing about online checkups is the ability to read about the experiences of past customers, which will help you check out for red flags and avoid potential scammers. It is similar to checking reviews for the restaurant you wish to eat at because it can be a valuable insight into the way they operate.
Of course, the pieces of information you can find in directories are subjective, meaning they may not apply to you. Still, you should check out the way a specific company responds to both negative and positive experiences, and determine whether they think about customers altogether.
The best place to start is BBB or Better Business Bureau where you can search for a specific installer to see the reviews, star ratings, and other things that will help you decide. Check out this guide: https://www.wikihow.com/Choose-Solar-Panels to learn how to choose solar panels based on your needs and requirements.
3.Talk With Neighbors Who Already Own Panels

Asking people who already own solar panels is the perfect option to gather info and insights on potential installers, especially if you checked them out online. You should learn a first-hand experience with them by asking them certain questions that will help you narrow your search.
Ask them about their responsiveness and communication skills, because that way, you can talk with them about your goals and ideas and try to get information on whether the plan you thought is possible. They may help you get the more effective option that will provide you with a bigger return.
Check out whether a project underwent specific hiccups, or everything was as planned, because prior strategizing is the best way to ensure you get everything you need. Creating a project is the half-work done, but another half will determine whether the strategy will turn into a reality or not. That is why you should talk about goals and milestones.
Of course, the most important consideration is asking them whether they were happy with the entire process or not, because that way, you can narrow a list you have written beforehand.
Still, when someone is happy about the work done, that does not mean you will be. Therefore, you should follow the information mentioned above and choose wisely based on your preferences.
4.Certification and Licenses
Similarly, as mentioned above, we can differentiate numerous certifications and licenses a solar installer should have, which will prove their experience, expertise, insurance policies, and staying up-to-date with the latest technologies.
One of the most important certifications or licenses you should look for is the North American Board of Certified Energy Practitioners. You should remember that each state features specific certification requirements, but the installer must have a relevant license that will help you determine their level of experience and expertise.
License is proof that residential solar services have met certain requirements and are proficient in handling the installation processes. If you are not certain about the license they have, we recommend you ask them directly and check out state requirements, which will help you compare everything and determine the best course of action.
5.Compare Different Quotes
As soon as you make a list of potential solar contractors that feature relevant certifications and licenses, the next step is to get in-person quotes and compare prices and other factors. That way, you can ensure to avoid someone who will ask for more than the market price. At the same time, if someone is asking for a considerably lower price, that should be a red flag as well.
Obtaining quotes is not a problematic solution, because some of them will offer you a chance to do it online or through the phone, meaning they will not visit your household, but check out satellite imagery. However, this method cannot show the current roof state and the amount of shade it gets, which are essential factors for placement. The better solution is getting a contractor to visit your household. In both situations, you should get at least three quotes and compare their prices and other aspects of the project. That way, you can prepare for financing and choose the one that meets your criteria.