Who said you need a huge space to tag your kitchen as "modern"? You can do so much in little rooms in your house, and you aren't even aware of it. Sure, you have new ideas sprouting up every once in a while. Whether regarding the space or resources, your kitchen can light up with just a few alterations! What's important is that your small cooking space should work smoothly and efficiently to be livable. If you wish to transform your small kitchen area and give it a stunning look while staying within your budget, this article is just for you.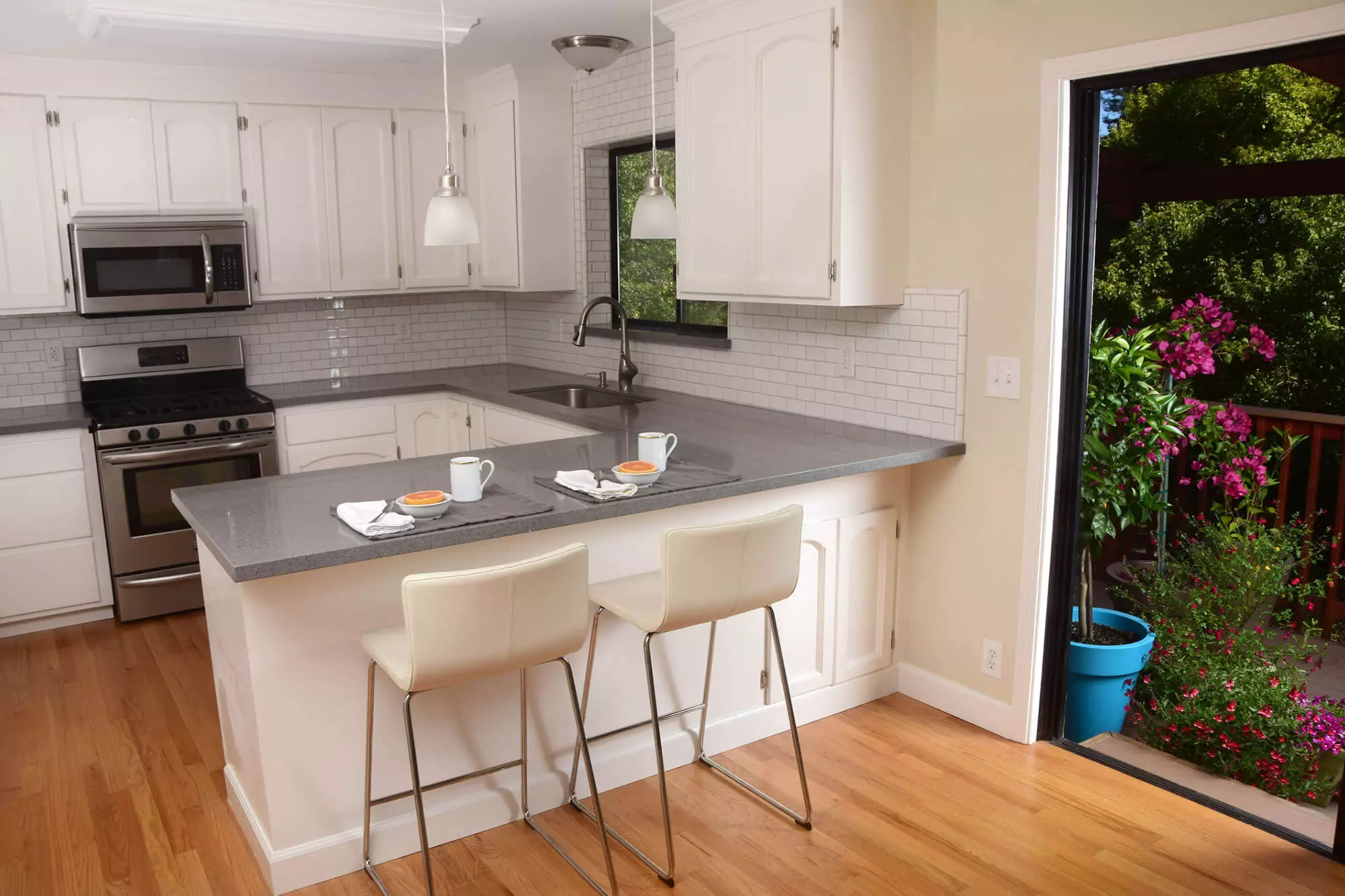 The secret to smaller cooking areas is imagination. Whatever the size or shape of the room you have got to work with, the magic is to design the illusion of a smart layout and storage solutions.
Once you get involved in the kitchen remodeling process, you will find endless possibilities to modify your kitchen. Today, homeowners are opting for kitchen cabinets to fill up their space. That way, you do not have to invest in other bigger things, for it takes the most room. Buyers prefer subtle and minimal design and color, like white kitchen cabinets. No matter the size of your kitchen, these colors are the epitome of a modern and classic look.
Before you start the process, remember that nobody would enjoy a cluttered kitchen. This area of your house should be a place where you can unwind and cook a hearty meal.
Each corner of the kitchen must be planned well, right from the kitchen layout to appliances, all working together to overcome the issues of cooking in a confined area. Following are some excellent ways to make the most of your existing kitchen space:
Install White Kitchen Cabinets
Kitchen cabinets are an amazing option if you have less space. And white kitchen cabinets are the best way to spruce up the area. White cabinets reflect light and boost the sense of spaciousness.
Imagine including a white kitchen cabinet, walls, and countertops, creating a seamless look without boundaries. If you want something slightly different, you can go for various shades of white in your little kitchen space.
If you plan on going for kitchen cabinets, consider the designs because it is one of the essential and defining elements for small kitchens. If you already have cabinets installed, change the slim, finger pulls and sleek handles, magnetic strips, or knobs to give your kitchen a minimal and classic look and make it appear bigger.
Create Shelving
Want budget kitchen ideas? Create a lot of open shelvings! Open your walls to create an airier kitchen. If you are not a huge fan of closed kitchen cabinets, you can opt for these. Open shelvings make small cooking spaces seem spacious and inviting.
Open shelving kitchen has been one of the top trends for the past few years. It certainly injects some modern vibes into your space. If you are trying to give a spacious look, you can easily go for it.
Carefully Place Appliances
For the betterment of your workflow, you need to place your kitchen appliances carefully. The oven, fridge, and sink should be placed at a working distance from one another. This will simplify your task and you can wrap up cooking real quick!
The latest appliances create a modern and aesthetically pleasing look, also grabbing the attention of the visitors.
Folding Kitchen Tables
So your kitchen is small, and you are worried whether it can hold the modern look or not. No worries! It surely can. Add a folding table to the spot where you prepare a meal. Without taking the valuable store, it will make your task easy. Folding tables is a perfect idea because you can tuck them away once your tasks are over.
Mix Up the Lights
Lights can take your kitchen to the next level! A skylight will give your ceiling more light, and raise the portion, expanding the area visually. Get ambient, pendant, task lights, etc., for the ideal kitchen look.
Color Scheme
Now that you have decided to install white kitchen cabinets, the next step is to ponder over the color scheme with a little difference between the walls, cabinets, and countertops. Go for subtle colors, which will reflect light and send a serene vibe.
The Final Takeaway
Small kitchen spaces need clever design ideas to make them look practical. There are innumerable kitchen remodeling ideas, especially if you have a smaller kitchen. Making the most of every inch by adding and maximizing the area with better solutions would be an incredible advantage.
By installing a white kitchen cabinet, you are already decluttering your kitchen and maximizing efficiency. Invest in items that can stand the test of time and the ones that promise quality.
Take one step at a time, and make the most out of your existing kitchen space.

Provided by homelight.com